Daughter of the Empire (1987)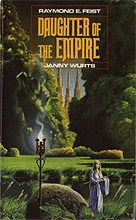 Magic and murder engulf the realm of Kelewan. Fierce warlords ignite a bitter blood feud to enslave the empire of Tsuranuanni. While in the opulent Imperial courts, assassins and spy-master plot cunning and devious intrigues against the rightful heir. Now Mara, a young, untested Ruling lady, is called upon to lead her people in a heroic struggle for survival. But first she must rally an army of rebel warriors, form a pact with the alien cho-ja, and marry the son of a hated enemy. Only then can Mara face her most dangerous foe of all--in his own impregnable stronghold. An epic tale of adventure and intrigue. Daughter of the Empire is fantasy of the highest order by two of the most talented writers in the field today.
Servant of the Empire (1989)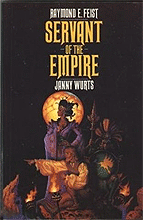 Having survived the near-destruction of her House, having risen in the great Game of the Council, having managed to rid herself of a cruel husband and a dangerous enemy, you might suppose Mara of the Acoma had secured stability for her future heirs. But Tsuranuanni politics are never simple or straightforward, and more than anything else, Mara has demonstrated to her enemies that she is dangerous, and worthy of their attentions in the Great Game. While the current Lord of the Anasati might be willing to offer Mara some protection, on Kelewan, titles can transfer with deadly speed. And as if these matters didn't offer enough danger, there are still assassins to worry about. With the Tsuranuanni Emperor, the Light of Heaven, playing with politics, and enemies all about her, Mara is already in dire need of all the skill and cunning she can muster.
Mistress of the Empire (1989)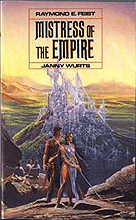 Named Servant of the Empire, and adopted into the Light of Heaven's family, Mara has risen far beyond her wildest expectations. Now a cultural icon, as well as one of the most powerful families in all of Kelewan's history, her position seems unassailable. But in Tsuranuanni politics, those who are the most powerful also make the most powerful enemies. The murder of her heir manages at one stroke to put Mara in conflict with three of the most powerful forces in the Empire - Jiro of the Anasati, the Hamoi Tong, and the Assembly of Magicians. To have even a slight chance to win against the powerful enemies Mara has developed, she'll have to be far more creative and daring than any of her foes could ever imagine, and willing to transform Tsuranuanni custom and politics beyond anything she ever could have envisioned!